【Event】2/14・15 Taste the difference in sake for each sake rice!
3.2.2020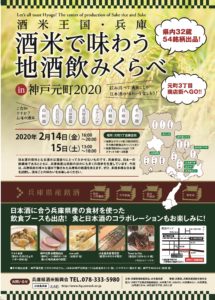 Sake rice, a raw material for sake, is indispensable for sake brewing.
Hyogo Prefecture is Japan's most important area of the production of sake rice, and in addition to Yamada Nishiki from Hyogo Prefecture, we produce a lot of sake rice.
This time, we will arrange Hyogo prefecture sake brewed with various sake rice from Hyogo prefecture.
By all means, please taste and enjoy a wide variety of sake brewered from each sake rice!
We are also going to open a food and drink booth using Hyogo prefecture-made ingredients that match sake. 
Please enjoy the collaboration of food and sake.
* Tasting of Japanese sake is ticket system! 
( 5 sheets spell 500 yen · 1 cup 60 cc / cup 1 to 3 sheets per cup ) 
* Other eating and drinking cash on
 ◎ Implementation overview ◎
【Date and time】 February 14, 2020 (Friday) 16:00 ~ 20:00  & 15 (Saturday) 13:00 ~ 18:00
【place】 Motomachi 3-chome shopping street 
【Registration fee】 Tasting tickets 5 sheets Spelling 500 yen
※ Tasting of Japanese sake is ticket system
※ Please purchase tickets at the ticket sales booths in venue.
※ snack is cash on
 [Participation brewery] 54 brands sake from 32 sake breweries in Hyogo prefecture ! (plans)
【Organizer】 Hyogo Prefecture Sake Rice Promotion Organization, JA Total Agriculture Hyogo Hyogo
【Support】 Hyogo Prefecture, Hyogo Prefecture Sake Brewery Association Federation
【Cooperation】 Motomachi 3-chome Shopping Street Promotion Association, JA Hyogo Rokko, JA Minori, JA Hyogo Mirai JA Hyogo Nishi, JA Tanba Hikami, JA Tama 
【Contact】 Hyogo Prefecture Sake Rice Promotion Organization TEL: 078-333-5980