【EVENT】2/3 SAKE WORLD PARTY in Hyogo
6.1.2023
Limited party for foreigners living in Japan!
Let's drink sake brewed in Hyogo Prefecture!
You can also enjoy pairing world cuisines with sake.
There will also be fun stage events such as Japanese drums and sake brewing songs.
Foreign residents who like or are interested in sake are welcome to join us.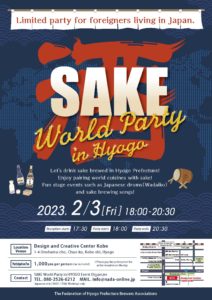 ■Date & TIme
February 3, 2023 [Fri]18:00~20:30
■Location/Venue
Design and Creative Center Kobe
(1-4 Onohama-cho, Chuo-ku, Kobe-shi, Hyogo)
■Participation Fee
1,000 yen per person (tax included)
※ Please pay the participation fee at the reception on the day.
■Participation Target
Foreigners living in Japan
■Conditions of Participation
・Residents of Japan with foreign nationality
・Up to 4 persons per group
※Those who have been naturalized as Japanese citizens are not permitted.
※Age 20 and older only
※Groups including only Japanese nationals are not allowed to participate.

■Application period
Until January 25, 2023
※Registration will close when the number of participants reaches 200.
【Please click here to see the flyer.】Please read the notes before applying.
●English Ver. SAKE WORLD PARTY 英語版
●Japanese Ver. SAKE WORLD PARTY 日本語版

【Please click here to apply.】https://form.run/@sakeworldparty
■Organizer The Federation of Hyogo Prefecture Brewers Associations
■Contact
SAKE World Party in HYOGO Event Organizer
TEL:080-2526-6212(Japanese only | 10:00~17:00, Weekdays only)
MAIL : info@nada-online.jp