【Event】2/22・23 Comparison of sake drinking tasted with sake rice in Motomachi 
6.2.2019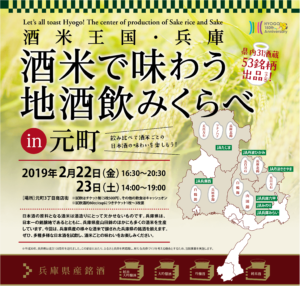 Sake rice, a raw material for sake, is indispensable for sake brewing. 
Hyogo Prefecture is Japan's most important inscription mark, and in addition to Yamada Nishiki from Hyogo Prefecture, we produce a lot of sake rice.
This time, I will arrange Hyogo prefecture sake brewed with various sake rice from Hyogo prefecture.
By all means, please taste a wide variety of sake and enjoy the taste of each sake rice!
We also opened a food and drink booth using Hyogo prefecture-made ingredients that match sake. 
Please enjoy the collaboration of food and sake.
 * Tasting of Japanese sake is ticket system! 
( 5 sheets spell 500 yen · 1 cup 60 cc / cup 1 to 3 sheets per cup ) 
* Other eating and drinking cash on
 ◎ Implementation overview ◎
【Date and time】 February 22, 2019 (Friday) 16:30 ~ 20:30  & 23 (Saturday) 14:00 ~ 19:00
【place】 Motomachi 3-chome shopping district
【Registration fee】 Tasting tickets 5 sheets Spelling 500 yen
※ Tasting of Japanese sake is ticket system
※ Please purchase tickets at the ticket sales office in the hall. 
※ snack is cash on
 [Participation brewery] prefecture 31 brewery 53 stocks exhibition! (plans)
【Organizer】 Hyogo Prefecture Sake Rice Promotion Organization, JA Total Agriculture Hyogo Hyogo
【Support】 Hyogo Prefecture, Hyogo Prefecture Sake Brewery Association Federation
【Cooperation】 Motomachi 3-chome Shopping Street Promotion Association, JA Hyogo Rokko, JA Minori, JA Hyogo Mirai JA Hyogo Nishi, JA Tanba Hikami, JA Tama 
【Contact】 Hyogo Prefecture Sake Rice Promotion Organization TEL: 078-333-5980